350 Days to RI Bicentennial
Sustainability Drive in RI
RI's approach to sustainability focuses largely on education, action and community engagement. We have various CCA and Enrichment groups who work on different aspects of sustainability and will collaborate when the opportunity arises such as when invited speakers speak on a broad range of sustainability issues. While gaining deep knowledge and appreciation of environmental sustainability issues and challenges, through research, workshops and seminars, students are encouraged to go one step further to reach out to the community and to influence change through education, action and advocacy.
Raffles One Earth
Raffles One Earth is a CCA whose goal is to care for and protect the environment. One Earth have engaged primary school children through fun and interactive workshops and learning journeys covering various themes such as recycling, waste reduction, water conservation and appreciation of biodiversity. Some of the primary schools we have reached out to include Zhonghua Primary School, Catholic High School (Primary Section), Marymount Convent School and Kuo Chuan Presbyterian Primary School. We hope to inspire the younger generation with a love for our environment and adopt environmentally friendly habits from young.
The members of One Earth will engage their peers through activities such as the Plastic Bottle Recycling inter-house competition and work with other CCAs such as Raffles Runway to collect pre-loved clothes which are redesigned and upcycled to reduce textile wastage. They also promoted the reduction of single use plastics in the school which received widespread support.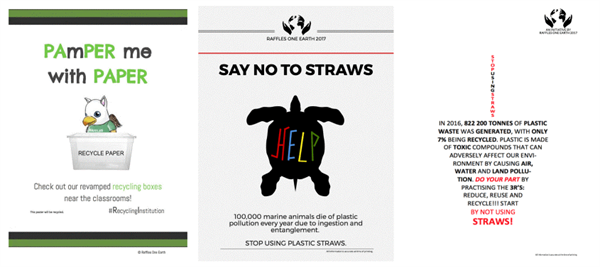 Raffles Ecological Literacy Programme
The Raffles Ecological Literacy Programme is an experiential platform for students to gain insights into the often unnoticed ecological community around them, allowing them to recognise the rich biodiversity and the intrinsic beauty of the natural environment, as well as to appreciate how the environmental sphere is inextricably linked to the economic and social spheres in the greater scheme of things.
Students participate in organised field trips and outdoor camps to both local and overseas destinations to deepen their understanding of the biodiversity surrounding them. They support and volunteer for environmental events as part of their environmental advocacy effort. Their Keystone project involves the production of an illustrated children's storybook, the Book Project, set in the local environmental context. This initiative started in 2010 and have since published 27 titles. The books are available as e-books (http://rli.ri.edu.sg/ecolitbooks/) and are also distributed to all National Libraries and primary schools. The books are also often utilized by National Parks Board and adapted into activity books that are distributed to pre-school institution for their Biodiversity Week for Schools initiative. The goal of the book is to help raise issues about the environment and the community. It fulfils the lack of children literature that focuses on our rich local natural heritage.
The Book Project has also gone on to inspire other primary and secondary schools to adopt a similar book writing initiative for their students.
Raffles Water and Environmental Sustainability Programme (RWESP)
This Wednesday Enrichment programme focuses on water, and how we manage and develop this precious resource in the face of growing demand and to promote economic growth in a responsible and environmentally sustainable way. Students are given the opportunity to discover the multidisciplinary nature of the subject, learn about Singapore's water and environmental journey, have both social and scientific discourse with academia, industry and policymakers and be equipped with skills to carry out a water/environmental science research project.
RWESP has a strong focus on scientific research and attracts students who would like to undergo the rigour of a research-based enrichment programme. Students attend workshops and seminars by guest lecturers to broaden their knowledge base and research skills. They also carry out research projects at the OpenLab at RI and will present their findings in the annual Raffles Science Symposium. They will also take part in the Singapore Junior Water Prize Competition and the Singapore Science and Engineering Fair.
While the current focus is largely on water sustainability, there are plans in place to broaden the curriculum to include sustainable development, sustainable urban living, water-food-energy nexus and Singapore's food security and our transition towards a green economy. Besides water research our students are already involved in research in behavioural science, earth and environmental science and environmental engineering.
RWESP has a strong tradition of inviting guest lecturers from different ministries and companies to speak to our students. We will continue with the sourcing of new guest lecturers as well as develop in-house lectures for some of these topics as well as important methodology in research analysis and reporting.
Sustainability and Green Technology
This Wednesday Enrichment programme which started this year focuses on how, with an interdisciplinary approach and the use of green technology, students can problem solve real world issues involving sustainability. By looking at the problem through different lenses, such as from the economic perspective, geography and science and technology, we can come up with the best approach in overcoming the environmental we are currently facing.
Students get an opportunity to listen to and engage speakers from multiple disciplines so that students get a balanced and broad view of issues surrounding sustainability. Learning journeys are organised to expose students to cutting edge technology from industry players and how they transition towards sustainable practices. They participate in activities such as a mock COP26 summit similar to the Model UN conference to appreciate the complexity of environmental issues faced and science alone cannot solve all the world's problem. With hands on sessions, students study the science behind fuel cells and get to use the 3D printer to prototype wind turbines and optimise the design of the wind turbine blade.
The two key significant projects are the elective seminar and the sustainable city capstone project. In the former students are asked to perform research on a given topic of sustainability and conduct a sharing session in class to educate their peers about what they have learnt. In the city capstone project, students learn about the strengths and limitations of green technology and constraints and trade-offs surrounding their use to achieve sustainability. They will conduct a poster presentation explaining their proposal on making the city more sustainable and green and their justification on their choice of green technology used.

Tagged Topics
#Community
#RI200
#RIBicentennial