400 days to RI Bicentennial
In the course of the institution's history, a strong tradition of sporting excellence evolved, with many Rafflesians and alumni representing Singapore at regional and international sporting events. The Gryphon Institute of Sports, established in 2009, provides a platform for students to explore the fields of Sports Research, Sports Science and Medicine, Sports Education and Administration. It aims to promote athletic and personal excellence, and nurture future leaders in sports beyond participation. With permission of the late E.W. Barker's family, the Institute was renamed the E.W. Barker Institute of Sports in 2012 as a tribute to our former law minister who was an avid sportsman and an inspiring Rafflesian.
Our student athletes attribute their success in their studies and in the sporting arena to the conducive environment and mentorship received from the teachers at RI. Where necessary, athletes representing Singapore in international sports meets benefited from an adjusted timetable, and continue to pursue excellence in both the academic and sporting arena. Besides representing the nation at the SEA Games, the Commonwealth Games, the Asian Games and the World Championships, Rafflesians strive to reach the apex of the Sporting world, the Olympics, and the Youth Olympic Games.
Many Rafflesians, guided by the values inculcated and lessons learnt from their sporting journey - competitive or otherwise - move on, to take up office in various organisations to serve and lead in the development of Sports in Singapore, and in their chosen industry. They model the Rafflesian Spirit of Serving, and preserve RI's sporting excellence and heritage, for the future generations of Rafflesians.
Some of Our Rafflesian Athletes: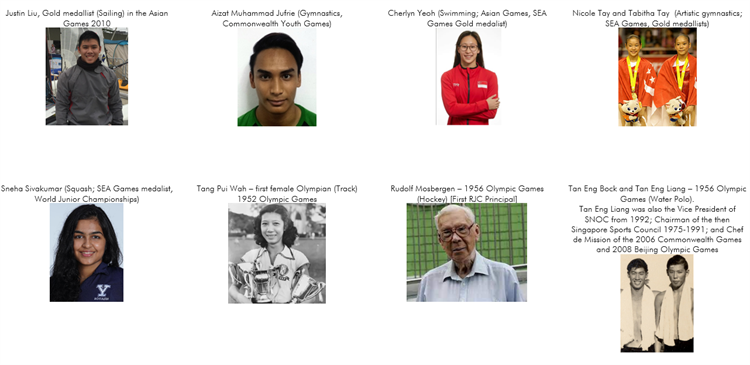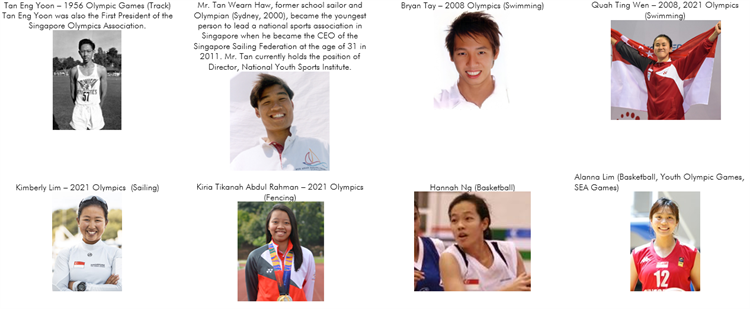 Image sources: Sports SG, Red Sports SG, NUS, RI Digital Bookshelf